WELCOME
Welcome to the official website of Horses & The Law Publishing.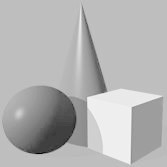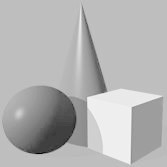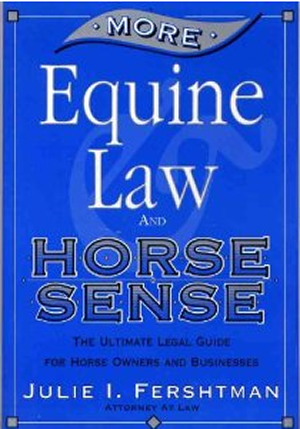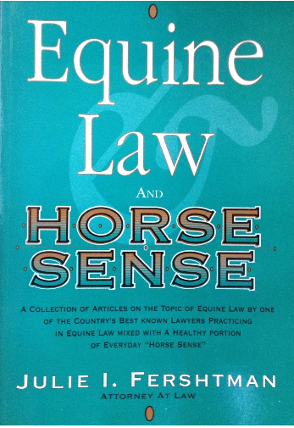 We've Proudly Brought You Informative and Understandable Equine Law Resources for 22 Years

Equine Law & Horse Sense (published in 1996) and MORE Equine Law & Horse Sense (published in 2000) combine general principles of the law with "horse sense" tips to help people avoid legal disputes. The books are meant to be companion books that sell together but can be ordered separately. They cover numerous topics and include no forms.

Equine Law & Horse Sense (166 pages)

Topics covered include:
Nuisance Liability / Prevent Neighbor Battles Over Horses
The Law of Independent Contractors
Elements of Effective Breeding & Boarding Contracts
The Law of Negligence - What is It?
Premises Liability (liability when guests or visitors are hurt)
Attractive Nuisance Liability -- and How to Avoid It
15 Common Characteristics of Effective Liability Releases
How to Avoid Disputes With Your Insurer -- and Get Claims Paid
Debt Collection for Boarding Stables & Stablemen's Liens
Alternatives to the Legal System – Mediation & Arbitration
How to Effectively Represent Yourself in Small Claims Court
How to Write a Demand Letter That Gets Results
Understanding Equine Activity Liability Laws
Glossary of Over 80 Legal Terms -- and more


MORE Equine Law & Horse Sense (234 pages)

Topics covered include:
How to Find and Hire an "Equine Lawyer" to Work For You
15 Myths Regarding Equine Insurance
Veterinary Malpractice & What You Can Do If You Suspect It
Equine Activity Liability Laws -- Do They Work?
Business Entities / Non-Profit Entities to Consider
Equine-Related Volunteer Liabilities
Boarding Stable Liabilities
Products Liability & What to Do If You Suspect a Defective Product
Liability Releases & Waivers -- What Makes Them Fail?
Several Ways to "Fine-Tune" Your Equine Contracts (No Forms)
The Law of Equine Leases, Half Leases, and Trial Periods
Equine-Friendly Zoning – Details & How to Achieve It
How Equine Liability Laws Affect Your Contracts
Pitfalls of Installment Payment Arrangements -- and more

In addition to these books, Julie Fershtman is also the co-author/co-editor of the ABA book Litigating Animal Law Disputes: A Complete Guide for Lawyers (584 pgs.)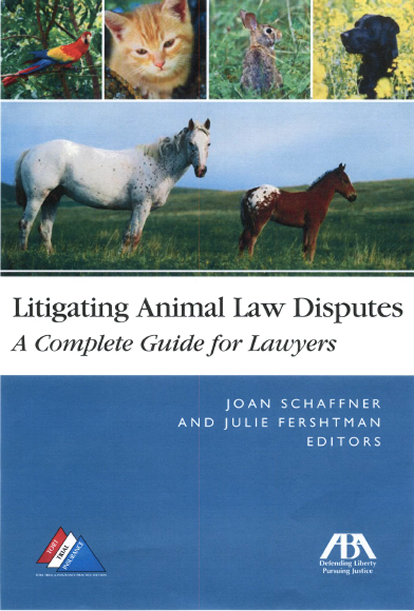 This book was published by the American Bar Association in 2009. Chapters include:
Negligence and Tort Law
Animal Ownership and Custody Disputes
Veterinary Malpractice
Animal Insurance and Coverage Disputes
Animal Related Contract & Sales Disputes
Animal Association Law
Criminal Law
Expert Witnesses
Practical Considerations for Animal Law Attorneys -- and more

NEW EQUINE LAW BOOK ON THE WAY!
Although the Equine Law & Horse Sense book series has sold out, we are proud to announce that Julie Fershtman's NEWEST book on Equine Law is in progress. The American Bar Association is publishing the book in 2019 or 2020! We'll share details here as the publication date approaches.
About the Author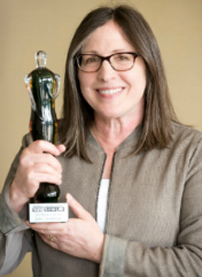 Julie I. Fershtman, a Shareholder with the law firm Foster Swift Collins & Smith, PC, is among the nation's best-known and most experienced Equine Law practitioners. For more complete biographical information, please visit these websites: www.fershtmanlaw.com, www.equinelaw.net, and www.fosterswift.com.
Crossing virtually all equine breeds and disciplines, her law practice serves a national** clientele of stables, professionals, associations, veterinarians, businesses, show management, insurers, trainers, "celebrity clinicians," and individual horse owners.
Peer Recognition Among Equine Law Practitioners. She is a Fellow (one of less than 20 nationwide) of the American College of Equine Attorneys.
Hard-to-find Equine Law Experience. She has taken Equine Law cases to trial in 4 states and has achieved numerous victories. In one year, she won jury trials in three states (Ohio, Illinois, and Michigan), two appeals, and a major Federal Court insurance coverage case. In addition, she has helped clients avoid legal disputes by drafting a wide variety of equine industry contracts, including waivers/releases, purchase or sales contracts, boarding contracts, training contracts, leases, and numerous other contracts. She has drafted several hundreds of these equine contracts.
Equine Industry Service. Her equine industry volunteer work includes service on boards of the American Youth Horse Council and the Equine Land Conservation Resource. She also has served for several years on the Planning Board for the National Conference on Equine Law.
Accomplishment and Peer Recognition. A lawyer since 1986, she is listed in The Best Lawyers in America , 2013- 2019 (Categories: Commercial Litigation and Insurance Law) and is rated "AV" [highest rating] by Martindale-Hubbell Law Directory. She was named the 2016 "Woman of the Year" for the State of Michigan by Michigan Lawyers Weekly. The lawyer rating website, AVVO rates her 10.0/10 (highest rating). She has also been named a Michigan "Super Lawyer®" from 2008-2018; from 2013 - 2018, Michigan Super Lawyers® also included her on two of its top lists -- one of "50 Top Women Lawyers in Michigan," and one of Michigan's "Top 25 Women Business Litigators." Michigan Lawyers Weekly named her a 2010 "Leader in the Law." She is a graduate of Emory College and Emory Law School.
Equine Industry Recognition. Ms. Fershtman has received many distinctions for her service to the equine industry on a state and national level. CHA (Certified Horsemanship Association) honored her with its "Partner in Safety" Award. The American Riding Instructors Association presented her with its "Outstanding Achievement" Award. The American Youth Horse Council gave her its "Distinguished Service" Award. She also received an "Associate Award" from the United Professional Horsemen's Association. She received the Michigan Equine Partnership's "Industry Service" Award, and the Michigan Horse Council's "Catalyst Award."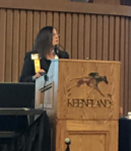 Speaking Engagements - 29 States (and Counting). With speaking engagements that span 29 states, Ms. Fershtman is unquestionably the nation's most sought-after speaker on Equine Law. Her speaking engagements include Equine Affaire (Ohio, Massachusetts, California), Equitana USA, National Conference on Equine Law, Midwest Horse Fair, U.S. Dressage Federation Convention, U.S. Pony Clubs Convention, American Horse Council Convention, American Paint Horse Association Convention, American Morgan Horse Association Convention, Carriage Operators of North America Convention, Hoosier Horse Fair, Michigan Horse Council Expo, national Agribusiness Conferences, and the American Youth Horse Council Convention. In addition, her articles have appeared in over 400 publications and web sites.
Contact the Author
Visit websites: www.fershtmanlaw.com, www.fosterswift.com, and www.equinelaw.net.
BLOG: www.equinelawblog.com
Please "LIKE" Our EQUINE LAW Facebook Page!
Now on Twitter!

Julie I. Fershtman, Esq.
Shareholder
FOSTER SWIFT COLLINS & SMITH, PC
28411 Northwestern Highway, Suite 500
Southfield, Michigan 48034
Direct Line: (248) 785-4731
E-mail: jfershtman@fosterswift.com

IMPORTANT:
The choice of a lawyer for your legal matter is one that should always be taken seriously and with great care.
If you have a legal matter and want to hire Ms. Fershtman, please remember that we must avoid conflicts of interest. Please do not e-mail, mail, fax, or send us details of your potential legal matter. (We might already represent the other side.) Instead, please call Ms. Fershtman's office [Direct line: (248) 785-4731 - Main office line: (248) 539-9900] so that we can carefully evaluate potential conflicts and determine whether our firm is right for your matter.
**What state(s) does your legal matter involve?
Ms. Fershtman has national expertise on Equine Law matters. She has tried Equine Law cases before juries in four states and has been admitted as special (pro hac vice) counsel on equine lawsuits in 18 jurisdictions across the country. Please understand, however, that ethical restrictions and regulations prevent her from handling cases alone in states other than Michigan, which is her state of licensure. Hiring her on your out-of-state matter will almost always require you to hire a local lawyer to work in some capacity with her.